In the area
One of the great things about Praia do Pedrógão is that it is located halfway Lisbon and Porto and there are many interesting sites in the area.
Leiria is a wonderfull district and has very much to offer. Leiria city is also a great place.
We have divided the points of interest in a couple of ranges, depending whether you want to stay mostly local or want to venture out a bit more.
Close by:
Lagoa de Ervideira – A very nice lagoon with facilities. As the Ocean can get a bit rough, if you want to spend some time relaxing and cooling down in some calmer waters (e.g. with small children) this is the place to go to. Also a very nice bike ride on a safe separate track from Praia do Pedrógão. About 6 km by road.
Praia do Osso da Baleia (Whalebone Beach) is a short distance by car or it's doable by walking (about 20 km beach walk, so take your time and plenty of liquids!) or cycling (bit of a detour, but great ride). Osso da Baleia Beach is simply huge, stretching on over the horizon running the length of the Mata Nacional do Urso protected area.
Very quiet and distanced from the road by a series of dunes, the Beach has won various environmental quality awards.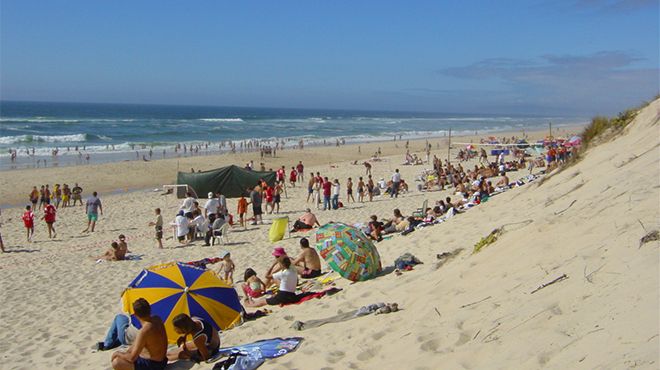 Praia de Vieira de Leiria – Venture a walk (about 6 km) with low tide over the beach southwards, but don't worry if the tide rises you can always take the main road through the pine woods. Can't miss it, straigth down south. You will cross the river Lis (there is a bridge be assured) just before getting there.
Aquaparque at Praia da Vieira (MARIPARQUE) – There is a great family water park with plenty of slides, swimmingpools and activities in the neighbouring village. It's located rigth in the middle of the urban area at the northern part of town (closest to Praia do Pedrógão). Video here.
Around 30 minutes away:
Leiria– Off course the city that gives the municipality that we belong to and the district in general it's name. This is the main city in the region with both history and facilities. The castle on the montain is it's major landmark.
You can't possibly stay at Praia do Pedrógão and not pay a visit to Leiria. Thankfully they have their own website so be sure to check it out to see what is on offer including planned activities.
Marinha Grande – a nice city. Marinha Grande is Portugal's biggest glass manufacturer, and it is also the European capital for the moulding industry, with 250 companies operating there, rightfully giving the town the nickname 'The Crystal City'.
Figueira da Foz – Huge sandy beaches, a mix between traditional portuguese mixed with a bit of hippie. The town itself has it's very modern and very old parts. The beach is very large, clean and all amenities present. Foz is the river mouth and Figueira is a fig tree. So it means Fig tree at the river mouth (of Rio Mondego). Great restaurants in the area, including plenty with a sea view. If you hate crowded beaches but love your space, this is an ideal place.
Montemor o-Velho – means The Old Mountain of the Mores.
Less than 60 minutes away
Fatima – If you're a devout Catholic, you'll know the place.
Nazare – Typical town that is well known and visited by tourists. Famous nowadays for the gigantic waves only the best and bravest surfers dare to challenge. Home of Portugal's biggest waves.
Porto de Mos – Dominated by a 13th-century hilltop castle, Porto de Mós is an untouristy town on the little Rio Lena that makes a good launch pad for exploring the mountains and caves of the adjacent Parque Natural das Serras de Aire e Candeeiros.
Caves de Mira de Aire – Ok, technically 1 hour and 2 minutes drive away, but since we love caves we have to include this one. Amazing experience. Nearby swimming pool after spending a morning in the cave system a great addition.
Serras de Aire e Candeeiros Natural Park – same area. Not advisable in the middle of summer since it will be a bit hot.
Peniche
Portugal's own "Alcatraz". Lovely town with great vibes. A walk around it will take you 3 hours.
Caldas da Rainha – Losely translated would mean Medicinal Healing Waters of the Queen. If you're a history buff, check the internet for more. Great town with a relaxed atmosphere. Plenty to see and do for everyone. Make sure to check out the central park and the very nice shopping streets. This is the type of mediterian atmosphere some try to recreate. Due to it's location it's got a pleasant temperature even in the hot summer days. One step in from the coast, Caldas da Rainha is a spa town founded by a queen. In the 15th century Eleanor of Viseu discovered locals bathing in the strange-smelling springs, and so began Europe's first hydrotherapy resort since Roman times. People descended on the town from far and wide in the 1800s, when it was furnished with a tasteful park and spa complex, now restored as a museum.
As a place where nobility and the bourgeoisie gathered, Caldas da Rainha has lots of distinguished architecture from the Baroque to Art Nouveau. And you will never lack for things to do, with the medieval village of Óbidos next door and two of Portugal's best beaches moments away.
São Pedro de Moel – a small typical sea-side village with a small beach but great atmosphere.
Batalha – With it's famous Monastry
São Martinho do Porto – Nothing to do with Porto city (or as some people wrongfully insist on calling it O Porto), but a wonderfull natural formed inland half circle bay, making it ideal for the smaller kids. No big waves here. Plenty of families, mostly Portuguese with some tourist thrown in. Well known for it's mostly permanent stalls on the sea-side promenade selling all kinds of (semi-)antiques. You might think you are in southern France, if not for the way more gentle prices of everyhing on offer. In summer times, it might be bit more difficult to find a parking space.
Foz do Arelho – Officialy one of the biggest salt water lakes in Europe. At a short distance from Caldas da Rainha. As it's a lake fed by the Ocean, you have a choice of challenging the big waves or take it easy in the lake. Amazing sunsets and great family atmosphere. Get there early if you want to park anywhere close to the beach in summertime. The village itself is nice and small, not much happening, but with some great restaurants and modern bars for sure.
More than 60 minutes away
Why bother to travel that far? You'll be better of staying elsewhere 😉